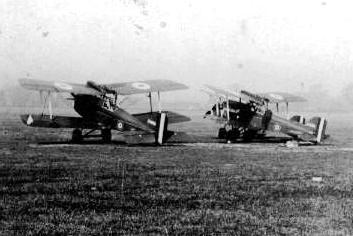 Squadron Formation
As directed in a War Office letter from the Deputy Director of Military Aeronautics to the Administrative Wing of the Royal Flying Corps, dated 6 April 1916, No. 56 Squadron was formed 8 June 1916 under the 'parentage' of No. 28 Squadron, Fort Rowner, Gosport. The first three personnel assigned were 2nd Class Air Mechanics posted to 28 Squadron specifically to be part of a 56 Squadron nucleus flight. Unfortunately, the history laid down in the first Operations Record does not name these individuals; however, the 23 October 1959 edition of Flight magazine contains correspondence from a Mr E Vousden, who wrote:
"In June 1916 I was the N.C.O. i/c 56 Nucleus Flight, which was drawn from No. 5 R.A.S., Castle Bromwich, and later attached to No. 28 Squadron, Gosport, until the formation of the squadron at London Colney in August 1916. I remained with the squadron until it was disbanded at Narborough in February 1919."
The first officers were Major Ernest Leslie Gossage, MC (Commanding Officer), 2nd Lieutenant John Kirsop (Assistant Equipment Officer), and Lieutenant Samuel Thomas Laurent Greer. On 23 June, the Squadron paraded as a separate entity; on 14 July, it moved to London Colney. The new unit's first aircraft, a Royal Aircraft Factory B.E.2c, arrived on 7 August, followed by a variety of other airframes to allow the Squadron to prepare for deployment to France. The next 6 months saw the Squadron frequently change hands until Major Richard Graham Blomfield, DSO, took over on 6 February 1917. It was under his exceptional command that the Squadron made its final preparations and entered into combat in the Great War. Shortly after the arrival of Major Blomfield, the Squadron saw the arrival of the celebrated Captain Albert Ball, DSO with 2 Bars, MC, who already had 31 victories. On 13 March 1917, the Squadron received the first of its operational aircraft, the Royal Aircraft Factory S.E.5. No. 56 was the first unit to receive this type, and it was the beginning of a Squadron tradition of aircraft operational test and evaluation.
Continue to: At the Front
Information taken from Operations Records available at the National Archives, the raf.mod.uk website and, with kind permission, the 56(R) Squadron archives. UK Crown copyright.