&nbsp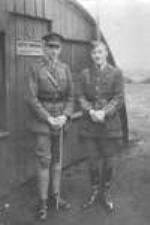 Wing Commander Richard Graham Blomfield, DSO
Wing Commander Blomfield was the Squadron's commanding officer at a crucial point in its history, the acceptance of the newly developed Royal Aircraft Factory SE5a aircraft and the unit's subsequent operational mobilisation to France. By all accounts, he did an exceptional job getting the Squadron ready and setting the foundations for the Squadron's upcoming success. This page provides an account of his life, as could be gleaned from various sources on the Internet (links are provided), the London Gazette and his Australian Service Record (kindly provided by the Australian War Memorial).
Richard Graham Blomfield was born on 7 December 1890, Sydney, New South Wales, Australia, a great-grandson of Thomas Valentine Blomfield. At some unknown date he moved to the UK and found work with a firm of Colliery Owners, London. At the outbreak of war he enlisted with the Yeomanry, being appointed Second-Lieutenant of the 1st County of London (Middlesex, Duke of Cambridge's Hussars) on 1 October 1914. Shortly afterwards, he had a short one-month commission with Royal Naval Volunteer Reserve. It is interesting to note that throughout the war his various promotions were all temporary with the exception of his promotion by the Dragoon Guards to full Lieutenant, 1 October 1917.
By 1915 he found his calling, gaining his Air Certificate on 6 August 1915; on 26 August Temporary Captain Blomfield of the Surrey (Queen Mary's Regiment) Yeomanry was appointed a Flying Officer of the Royal Flying Corps (RFC). The following excerpt from the The West Australian, Wednesday 13 October 1915 summarises these early years.
"ENERGETIC AUSTRALIAN OFFICER. INCENTIVE TO JOIN THE COLOURS.
Last mail brought news to his father (? present in Perth) that Captain R. G. Blomfield, of the Royal Flying Corps, had been promoted to the rank of Acting-Flight Commander, with six lieutenants, 150 men, and 15 aeroplanes, etc., under his direction. Immediately war was declared Captain Blomfield applied to Lord Denman for a commission, and he was appointed lieutenant in the Middlesex Hussars, of which Lord Denman was colonel. After a few months young Blomfield was transferred to the Surrey Yeomanry (cavalry), with promotion to the rank of captain. When aviation became an important factor in the war Captain Blomfield was desirous of taking on aviation military work. He obtained a commission in the Royal Flying Corps, and went in for training and instruction at the Aerodrome School at Ruislip, Middlesex [now RAF Northolt]. With his past experience in motor mechanical engineering, he rapidly succeeded in all his examinations and passed out for active service in the record time of 21 months including his final examination, which entitled him to wear his "wings" (embossed in gold on his uniform). The previous best time at his aerodrome base was 31 months [Several sources indicate that flying training in 1915 normally took 5 months; therefore, it is likely that Blomfield's training took 21 weeks vice 21 months. The Aerodrome provides an excellent account of WW1 pilot training]. Later, on the recommendation of his commanding officer, he was, as stated above, appointed Acting-Flight Commander. This, it is claimed, should be a great incentive to young Australians to join the colours, as it shows what can be done by brains and energy. It is rumoured that a flying corps composed entirely of Australians is to be formed in England."
Upon graduation from flight training with No. 3 Reserve Squadron, Flying Officer Blomfield was posted to 5 Reserve Squadron. With his official appointment to Flight Commander January 1916, he deployed to France to serve with 10 Squadron 3 January - 9 May 1916. No. 10 Squadron was a Corps Reconnaissance squadron with a primary task of artillery support, based at Chocques, near Bethune, in the Pas-de-Calais. Captain Blomfield first appears in the 10 Squadron Record Book 2 February, wherein he makes three attempts at completing a mission with Lieutenant Scott as his Observer, but to no avail: the first two flights were hampered by cloud whilst the last was affected by engine troubles. As a Flight Commander, his flying on the Squadron was almost an even three-way split between artillery support/reconnaissance in the B.E.2c (20 missions), conducting patrols or bomber escort in the Squadron's Bristol Scout (17 missions), and flight tests/Observer training (15 flights). His two main Observers were Lieutenant Scott and 2nd Lieutenant Milner.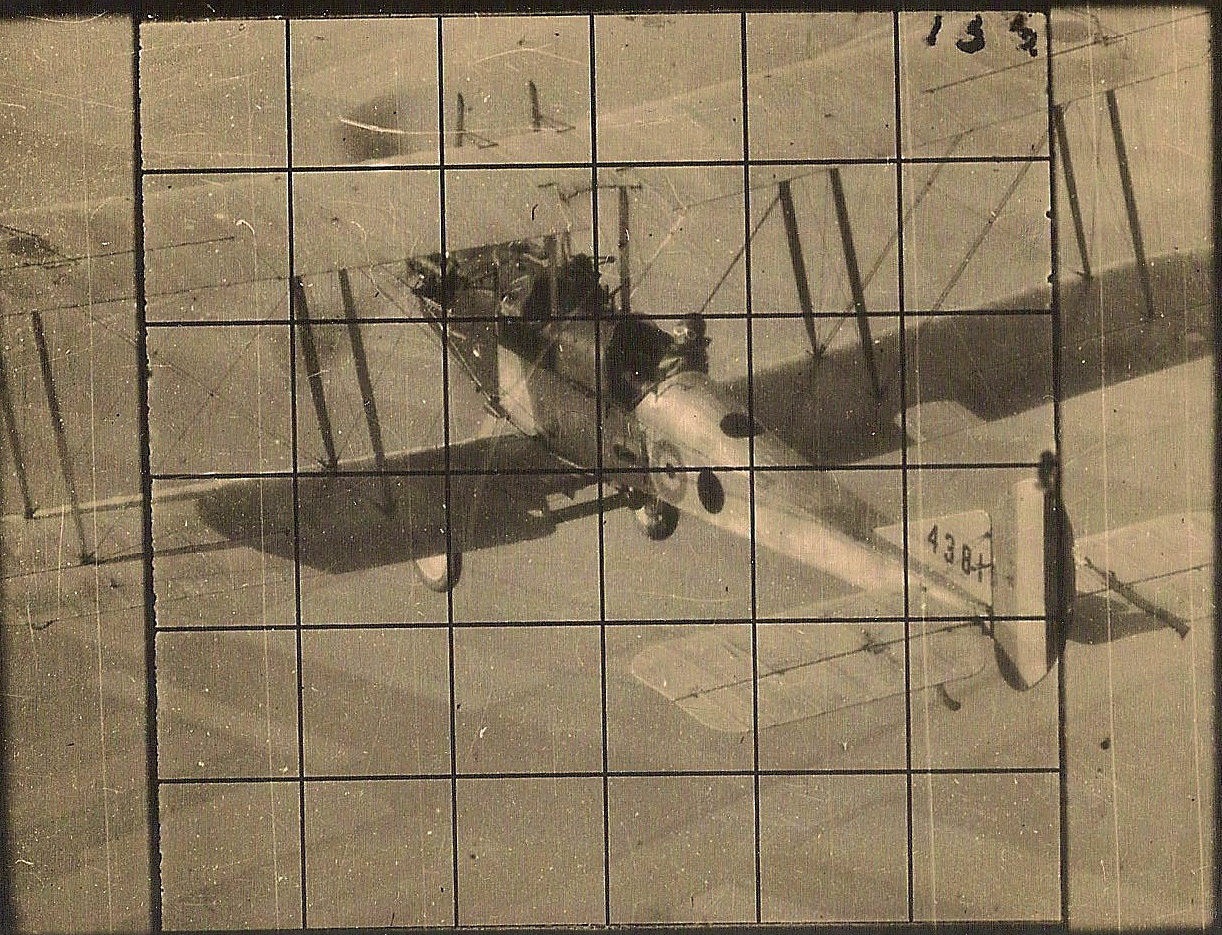 10 Squadron B.E.2c. Note that aircraft is seen through the Hythe Gun Camera (an adapted Lewis Gun) used for training Observers. Picture and 10 Squadron info kindly provided by 10 Sqn Association archives.
Upon his return from France, Second-Lieutenant/Temporary Captain Blomfield, now of the 5th Dragoon Guards, was officially seconded to the RFC. After a few weeks leave, he assumed command of 20 Reserve Squadron 17 May 1916.
On 1 August 1916, Blomfield was appointed Squadron Commander and made a Temporary Major. On 25 January 1917 he went to No 56 Squadron, where he took command 6 February 1917. His successes in this role are well recounted by Mr. Alex Revell in his authoritative WW1 history of 56 Squadron, "High in the Empty Blue" and, hence, throughout the Internet. This shall, therefore, not be fully recounted here. The highlights are:
- he was an excellent organiser.

- he handpicked his pilots and maintainers.

- a priority for him, he created a 56 Squadron band.

- he stood fast against a rushed deployment to France until the Squadron felt their new S.E.5a aircraft were appropriately modified and ready for combat.
Here is a description of Major Blomfield as told by Cecil Lewis, recounting his early days at London Colney with 56, in his book Sagittarius Rising:
"The success of a squadron depends enormously on the personality of the Commanding Officer. Major Blomfield, O.C. 56, was determined to allow nothing to come between him and making his the crack fighting squadron in the R.F.C. His geniality did not prevent him being very sharp-eyed and nimble-witted. Efficiency was his watchword.
In appearance he was shortish and slightly built. He wore leggings, and invariably carried a short leather-covered cane, with which he directed everything, reminding one irresistibly of a dapper little ringmaster. Tremendously energetic and keen, he was always to be seen hurrying here and there, giving close supervision to every detail of the squadron's work - activity and organisations personified."
Some may question the fact that Major Blomfield did not fly on missions; however, this was strongly discouraged by the Commander of 13 Wing, and required his permission. The wording in a letter, dated 2 February 1917, to the Squadron Commanders were quite clear in this regard: "It should be clearly understood that a Squadron Commander's principal duties are on the ground, and if sufficient attention is given to these there is little likelihood of time being left for frequent flying." On 29 October 1917, he turned over command of the Squadron to Major Balcombe-Brown, a New Zealander.
Promoted to Temporary Lieutenant-Colonel, Lieutenant Blomfield of the 5th Dragoon Guards was posted to 39 Wing. In December 1917, he joined the British mission to the United States to provide advice and assistance in the training of airmen. Of interest, the Recording Officer during his time with No. 56, 2nd Lieutenant Thomas Bertrand Marson, was also tasked on this mission. Marson's book, The Scarlet and Khaki (1930), provides some insight into the nature of the mission.
In August 1918, Lieutenant-Colonel Blomfield took over command of 51 Wing, Cartigny, where he stayed until the end of the war. 51 Wing was, at the time, comprised of Nos. 1 and 43 Scout Squadrons, and Nos. 98 and 107 Bomber Squadrons; and, the operations ordered by the Wing were generally bombing of targets in the Arras, Albert, Cambrai area with the Scout squadrons providing support. On 26 April 1919, he took over command of 23 Wing, followed by a move to the Coastal Area as Inspector of Recruiting. In 1920, his rank of Lieutenant-Colonel was finally made permanent. Apparently, this also required him to officially resign his commission as a Lieutenant in the Dragoon Guards. In 1921, he was placed on half-pay, and finally retired 4 May 1924. Thereafter, his activities are largely unknown. The following tidbits were found on the Internet:
- regular yachtsman at Niagara Falls circa 1934.

- travelled to South Africa 13 December 1935 (Carnarvon Castle passenger list)

- the online Oxford Index lists Richard Graham Blomfield (1890-1940) as the Export Manager for Beecham Trust Ltd.
On 18 March 1940, the Gloucester Echo reported that Wing Commander Richard Graham Blomfield, who had been recalled from the RAF Reserve at the outbreak of war, was found gassed [16 March] in his Farnborough home. Several U.S. papers reported on an article in the London Daily Mail, 20 March 1940, which stated that "he died without knowing the decision of a court martial which he faced three weeks previously. Findings at the time of Blomfield's death were not promulgated and the Daily Mail made no mention of the charges against him. (An air ministry spokesman stated that the trial was held in Camera and that the charges not made public. He declined further comment.)"
Today, details regarding his court martial can be found in the National Archives: AIR43/13 and AIR44/10. A letter from the Judge Advocate General charges Wing Commander Blomfield with "conduct to the prejudice of good order and Air Force discipline" when he wrote a letter, on official letterhead dated 17 January 1940, to a Mr Wallace Groves, New York. Therein, he informed his friend:
"We are testing out a plane here with super magnets in the wings and it flies low over the sea and up comes the magnetic mines to the surface. It is proving very successful and am telling you privately as I know the idea would appeal to you. You fly as low as you and I were taken over the water from Miami to your island."
Blomfield was referring to the Directional Wireless Installation, an electromagnetic hoop installed on a Vickers Wellington. On 5 March he was found guilty of the civil offence of communicating classified information to a foreign national. The sentence was dismissal from the RAF. It would seem that his love of flight and the friendships he formed during the UK mission to the United States contributed to this tragic error.
No record has been found regarding when and where he rejoined the RAF or what he did. He appears as a Wing Commander (1918 to 1935) servicing on the Active List of the RAF in the December 1939 to March 1940 Air Force Lists. He was buried in the Aldershot Military Cemetery.
London Gazette Entries
A trawl through the London Gazette provides an interesting glimpse into Wing Commander Blomfield's career, showing his initial search for a role in the War and his rise through the 'temporary' ranks. This listing also provides a glimpse at the genesis of the rank structure that would be adopted by the RAF.
Yeomanry. 1st County of London (Middlesex, Duke of Cambridge's Hussars). The undermentioned to be Second Lieutenants: — Richard Graham Blomfield. Dated 1st October, 1914. (THE LONDON GAZETTE, 23 OCTOBER, 1914,p8524).
Royal Naval Volunteer Reserve. Temporary Commissions in the Royal Naval Volunteer Reserve have been issued as follows: —SUB-LlEUTENANT. Richard Graham Blomfield. (THE LONDON GAZETTE, 10 NOVEMBER, 1914. p9131)
Royal Naval Volunteer Reserve. The following temporary Commissions have been cancelled: —SUB-LlEUTENANTS. Richard Graham Blomfield. (THE LONDON GAZETTE, 15 DECEMBER, 1914. p10691)
Surrey (Queen Mary's Regiment). Second Lieutenant Richard G. Blomfield, from 1st County of London (Middlesex, Duke of Cambridge's Hussars) Yeomanry, to be Captain (temporary). Dated 2nd April, 1915. (SUPPLEMENT TO THE LONDON GAZETTE, 1 APRIL, 1915, p3232)
Surrey (Queen Mary's Regiment). The date of appointment of Captain Richard G. Blomfield is 11th March, 1915, and not as announced in the London Gazette of the 1st April, 1915. (SUPPLEMENT TO THE LONDON GAZETTE, 21 APRIL, 1915. p3926)
ROYAL FLYING CORPS. The undermentioned appointments are made: — Flying Officers— Dated 26th August, 1915. Temporary Captain R. G. Blomfield, Surrey (Queen Mary's Regiment) Yeomanry, Territorial Force. (SUPPLEMENT TO THE LONDON GAZETTE, 29 SEPTEMBER, 1915., p9626)
ROYAL FLYING CORPS. The undermentioned appointments are made: —
Flight Commanders— From Flying Officers— And to be temporary Captains whilst so
employed. Dated 30th January, 1916. Captain R. G. Blomfield, Surrey (Queen
Mary's Regiment) Yeomanry, Territorial Force. Dated 3rd February, 1916. (SUPPLEMENT TO THE LONDON GAZETTE, 12 FEBRUARY, 1916., p1654)
CAVALRY. 5th D. G.—2nd Lt. R. G. Blomfield is secd. for service with the R.F.C. 9th May 1916. (SUPPLEMENT TO THE LONDON GAZETTE, 27 MAY, 1916, p5288)
ROYAL FLYING CORPS. The undermentioned appts. are made: — Sqdn. Comdrs.—From Flight Comdrs., and to be temp. Majors whilst so empld. 1st Aug. 1916:— 2nd Lt. (temp. Capt.). R. G. Blomfield. (THE LONDON GAZETTE, 22 AUGUST, 1916., p8289)
Sqdn. Comdrs.—The appts. of the undermentioned are antedated as follows:—
To 1st June 1916. 2nd Lt. (temp. Maj.) R. G. Blomfield, 5th D. G. (THE LONDON GAZETTE, 26 JANUARY, 1917., p957)
The undermentioned appts. are made:— Wing Comdr.—2nd Lt. (temp. Maj.) R. G.
Blomfield, D. Gds., from a Sqdn. Comdr., and to be temp. Lt.-Col. whilst so empld.
30th Oct. 1917. (SUPPLEMENT TO THE LONDON GAZETTE, 23 NOVEMBER, 1917, p12123)
War Office, 11th December, 1917.
The following Despatch has been received by the- Secretary of State for War from Field-Marshal Sir Douglas Haig, K.T., G.C.B., G.C.V.O., K.C.I.E., Commander-in-Chief of the British Armies in France:— General Headquarters, 7th November, 1917.
SIR,—I have the honour to submit a list* of names of those officers, ladies, non-commissioned officers and men serving, or who have served, under my command during the period February 26th to midnight, September 20/21st, 1917, whose distinguished and gallant services and devotion to duty I consider deserving of special mention.
I have the honour to be, Sir, Your obedient Servant, D. HAIG, Field-Marshal, Commander-in-Chief, The British Armies in France.
ROYAL FLYING CORPS
Blomfield, Temp. Capt. (temp. Maj.) R. G., Yeo. (2nd Lt., D. Gds.). (SUPPLEMENT TO THE LONDON GAZETTE, 11 DECEMBER, 1917, p12923)
His Majesty the KING has been graciously pleased to approve of the undermentioned rewards for distinguished service in the Field. Dated 1st Jan. 1918 — AWARDED THE DISTINGUISHED SERVICE ORDER. 2nd Lt. (T /Maj.) Richard Graham Blomfield, Gds., and RFC.. (SUPPLEMENT TO THE LONDON GAZETTE, 1 JANUARY, 1918, pp7-8)
The undermentioned 2nd Lts. to be Lts. :— CAVALRY. D. Gds.—R. G. Blomfield. 1st Oct. 1917. (SUPPLEMENT TO THE LQNDON GAZETTE, 7 FEBRUARY, 1918, p1786)
The undermentioned are transferred to the unemployed list: — 21st May 1919. Lt.-Col. R. G. Blomfield, D.S.O (THE LONDON GAZETTE, 3 JUNE, 1919., pp7071, 7073)
The following are granted permanent commissions in the R.A.F. in the ranks stated. Dated 1st August: — Lieutenant-Colonels. R. G. Blomfield, D.S.O. (THE LONDON GAZETTE, 1 AUGUST, 1919, pp9864-9865)
CAVALRY. 5th D. Gds.—Lt. R. G. Blomfield, D.S.O., resigns his commn. on appt to a permanent commn. in the R.A.F. 1st Aug. 1919. (SUPPLEMENT TO THE LONDON GAZETTE, 6 OCTOBER, 1920., p9790)
Wing Commander Richard Graham. BLOMFIELD, D.S.0., is placed on half-pay, Scale A, 4th May 1921. (THE LONDON GAZETTE, 10 MAY, 1921, p3752)
Wing Commander Richard Graham BLOMFIELD, D.S.O., is placed on the retired
list. 4th May 1924. (THE LONDON GAZETTE, 27 MAY, 1924, p4204)