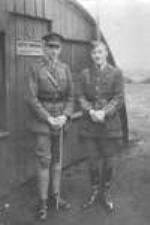 Major Ralph Montgomery Vaughan, MC
Major Ralph Montgomery Vaughan was one of the the Squadron's early commanding officers, a period that saw a high turnover at that position. Like many who fought for their country in the great wars, his story is relatively unknown with little detail of what happened before or after. Fortunately, an article by his son, Alan Vaughan, in the October 2014 edition of the Hawkridge Village Magazine sheds some light on Major Vaughan's story. This page provides an account of his life, as could be gleaned from scattered sources on the Internet (links are provided), data from the UK National Archives, the London Gazette, and findmypast.co.uk.
Ralph Montgomery Vaughan was born in Dromore, County Down, Ireland on 24 September 1890, the son of George Montgomery Vaughan of Quilly House, County Down, and his third wife, Caroline Anne (Dickenson). Ralph was the second youngest of eleven children and, in his early years, attended the Mourne Grange Boarding School in Drumindoney (1901 Census, National Archives of Ireland). Both his parents died before he was eleven (his dad died in 1902, aged 76), and he was thereafter raised by his much-older step sister, Mrs Alice Katherine Quin, from his dad's first marriage. In 1910, after finishing his education in England, he joined the 2nd Royal Inniskilling Fusiliers being promoted to Lieutenant in October of that year.
In late 1912, Lieutenant Vaughan began his flight training at the Bristol School, Salisbury Plain. His instructors were Geoffrey England, Henry Richard Busteed and Henri Marie Jullerot. In these early years of aviation, the goings-on at the various pilot training schools was summarised in The Royal Aero Club's Flight Magazine; as such, we are provided insight into his training and comments on his skill level:
"On January 14th ... Lieut. Vaughan passed the tests for the first part of his ticket, both flights being very creditable as the weather was anything but favourable." (1 Feb 1913)
"On Thursday ... Lieut. Vaughan made an excellent flight in a strong wind, showing himself to have perfect control of the machine, and landing well." (15 Feb 1913)
"Lieut. Vaughan successfully completed the necessary tests for his certificate in really excellent style, proving himself a flyer of no mean ability." (22 Feb 1913)
Overall, Vaughan completed 20 dual-seat flights with his instructors and 5 solo flights before completing his final testing. His first solo was made on 24 January. Lieutenant Vaughan received Aviator Certicate No. 417 on 18 February 2013.
He subsequently joined No. 3 Squadron in Netheravon, from which he was posted to No. 5 Squadron upon its formation from one of the No. 3 Squadron flights in July 1913. On 14 August, he was appointed to the Royal Flying Corps (RFC) Reserve and, on 18 December, he was officially seconded to the RFC as a Flying Officer. In June of 1914, RAF Nos. 2, 3, 4, 5 and 6 Squadrons gathered at Netheravon for a training 'Concentration Camp'. Once again, Flight Magazine provide excellent insight into the activities that Lieutenant Vaughan would have undertaken during this event, including numerous pictures of interest. Best of all, group pictures with a legend are included; the photo of the officers is shown below with two of No. 56 Squadron Commanders-to-be highlighted.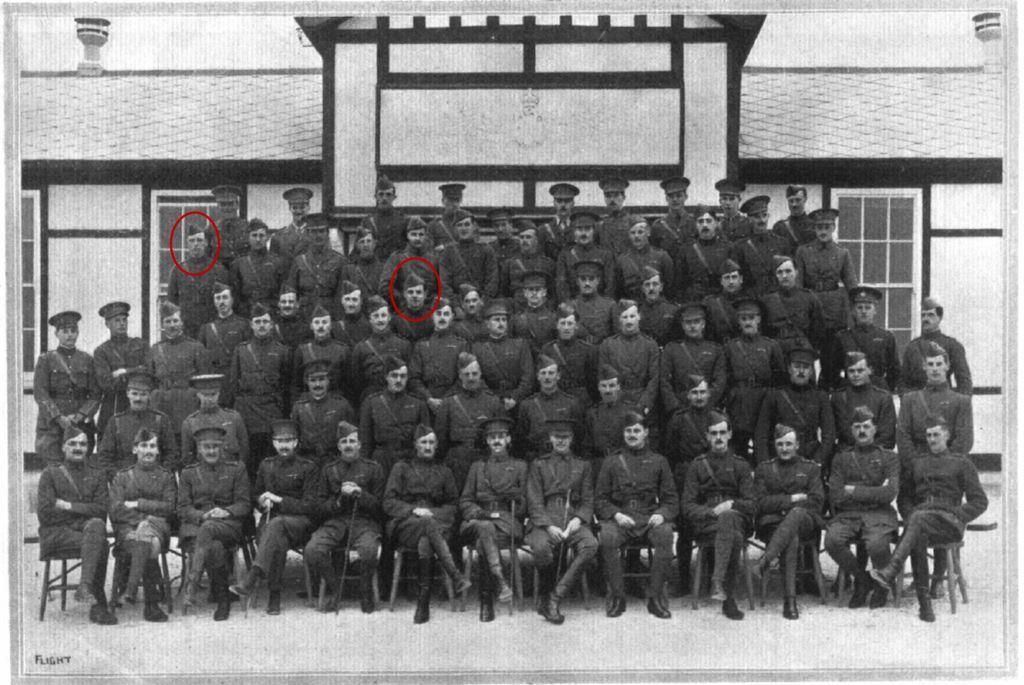 Officers of the RFC at Netheravon Concentration Camp: Lt Vaughan is circled in the middle; Lt Harvey-Kelly, another future Officer Commanding 56 Squadron is circled on the left.
After the Camp, No. 5 Squadron moved to Fort Grange, Gosport. On 15 August 1914, Lieutenant Vaughan and the Squadron left Dover for France. Unfortunately, Vaughan's trip to the new aerodrome ended up being a bit of an adventure: when he made a forced landing near Boulogne, he was arrested by the French, and imprisoned for nearly a week. As such, he did not make it to the new aerodrome until the 22nd. (The War in the Air, Sir Walter Alexander Raleigh). He was wounded, being shot in the leg, on 1 Nov 1914. On 17 April 1915, while carrying out reconnaissance near Bruges in a B.E.2c with No. 4 Squadron, his observer, 2 Lt John Frederick Lascelles (RFC and Rifle Brigade) took 24 shots with his rifle. The German pilot was hit in the head and the plane crashed; the German observer was taken prisoner (Various sources: Cross and Cockade; Wordpress). For this action, both were mentioned in dispatches and awarded the Military Cross (London Gazette, 22 and 23 June 1915). Sadly, 2nd Lieutenant Lascelles was killed shortly thereafter, on 31 July. The date on which he transferred to No. 4 Squadron is uncertain, as his RAF service record states that he was in Netheravon as a Flight Commander at the time of the downing of the German aircraft. One can only assume that the date on which the service record states that he was posted to Netheravon, 22 February 1915, is the likeliest date that he transferred to No. 4.
On 28 March 1915 he was appointed to the rank of Temporary Captain and Flight Commander in the RFC; he was appointed Temporary Captain within the Fusiliers 1 September and full Captain 17 November. On 2 April 1916, he was promoted to Temporary Major/Squadron Commander. Based on his service record and various Internet sites, he held the following command positions:
17 Sep 1915 to 2 May 1916 - Acting Squadron Commander No. 8 Reserve Aeroplane Squadron (Netheravon)
6 May to 5 Jul 1916 - Officer Commanding (OC) No. 5 Squadron (France)
16 Jul to 23 Sep 1916 - OC No. 7 Squadron (France)
5 Oct to 3 Nov 1916 - OC No. 33 Home Defence Squadron (Gainsborough)
3 Nov to 21 Dec 1916 - OC No. 56 Squadron (London Colney)
Dec 1916 to 5 Mar 1917 - OC(?) No. 26 Reserve Aeroplane Squadron (RAF Turnhouse, by Edinburgh Scotland)
Unfortunately, his eyesight partially failed. Having reverted to Flight Commander, on 7 September 1917 he ceased to belong to the RFC. On 28 February 1918, it was announced in the Liverpool Daily Post that Captain Ralph Montgomery Vaughan was engaged to Isoline Esther Cook of Edinburgh. He returned to serve with the Royal Inniskilling Fusiliers. On the first day of the great German offensive, 21 March 1918, Capt Vaughan was taken prisoner and marched to Germany. He was repatriated to England 10 December 1918. He soon was married to Isoline Esther Cook and rejoined the Fusiliers 11 Jan 1920. From various sources, it can be seen that Vaughan became very involved with the Royal Inniskilling Fusilier band, being mentioned in one news article as the Band President of the Regiment (Folkestone, Hythe, Sandgate & Cheriton Herald 30 April 1927). In July 1932, he is promoted to the rank of Major, and retires on 24 November 1936. During the Second World War, he was in the 'Reserve of Officers'; he ceased to belong 14 October 1945, "having reached the age limit of liability to recall". A sign of the regard in which he was held by the Fusiliers is evident in the war diary of the 6th Royal Inniskilling Fusiliers:
17th March 1944 – BELLONA (1686). St Patrick's Day Greetings were sent to the following: His Majesty the King, HRH the Duke of Gloucester, The Primate of All Ireland, Am Taoiseach Dail Eireann, General Sir Alan Brooke, General Sir Claude Auckinleck, Sir Basil Brooke, Major RM Vaughan MC, the 1st Bttn Royal Inniskilling Fusiliers, the 2nd Bttn Royal Inniskilling Fusiliers, the 5th Bttn Royal Inniskilling Fusiliers, 25 ITC.
(www.irishbrigade.co.uk)
Ralph Montgomery Vaughan passed away in 1976 in Surrey, England, survived by Isoline who passed away in 1985.
Gazette Entries
The Royal Inniskilling Fusiliers, Ralph Montgomery Vaughan, in succession to Lieutenant H. N. Young, promoted.
(THE LONDON GAZETTE, OCTOBER 4, 1910. p6979)
ROYAL FLYING CORPS.
Military Wing, The undermentioned are appointed to the Reserve: —
Dated 14th August, 1913.
Lieutenant Hubert D. Harvey-Kelly, The Royal Irish Regiment.
Lieutenant Ralph M. Vaughan, The Royal Inniskilling Fusiliers,
(THE LONDON GAZETTE, 9 SEPTEMBER, 1913. p6417)
ROYAL FLYING CORPS.
Military Wing
Lieutenant Ralph M. Vaughan, The Royal Inniskilling Fusiliers, from the Reserve, is appointed a Flying Officer, and to be seconded. Dated 18th December, 1913.
(THE LONDON GAZETTE, 2 JANUARY, 1914. p39)
ROYAL FLYING CORPS.
Military Wing.
The undermentioned Flying Officers to be Flight Commanders: —
Lieutenant R. M. Vaughan, The Royal Inniskilling Fusiliers, and to be temporary Captain. Dated 28th March, 1915.
(THE LONDON GAZETTE, 13 APRIL, 1915. p3583)
War Office,
22nd June, 1915.
The following despatch has been received by the Secretary of State for War from the Field-Marshal Commanding-in-Chief, British Forces in the Field: —
31st May, 1915.
MY LORD,—
In accordance with the last paragraph of my Despatch of the 5th April, 1915, I have the honour to bring to notice names of those whom I recommend for gallant and distinguished service in the field.
I have the honour to be, Your Lordship's most obedient Servant,
J. D. P. FRENCH,
Field-Marshal, Commanding-in-Chief,
The British Army in the Field.
ROYAL FLYING CORPS.
Trenchard, Brevet Lieutenant-Colonel H. M., C.B.,D.S.O., Royal Scots Fusiliers.
Vaughan, Lieutenant (temporary Captain) R. M., Royal Inniskilling Fusiliers.
(SUPPLEMENT TO THE LONDON GAZETTE, 22 JUNE, 1915. p5981)
Awarded the Military Cross
Lieutenant (temporary Captain) R. M. Vaughan, Royal Inniskilling Fusiliers
(THE LONDON GAZETTE, SUPPLEMENT 29202, 23 JUNE, 1915. p6118)
REGULAR FORCES.
The undermentioned Lieutenants to be temporary Captains. Dated 1st September, 1915: —
The Royal Inniskilling Fusiliers.
R. M. Vaughan.
(THE LONDON GAZETTE, 28 SEPTEMBER, 1915. p9558)
The Royal Inniskilling Fusiliers.
The undermentioned Lieutenants to be Captains: —
Dated 17th November, 1915.
Ralph M. Vaughan, and to remain seconded.
(SUPPLEMENT TO THE LONDON GAZETTE, 29 JANUARY, 1916. p1220)
Flight Comdrs.—
Capt. (temp. Maj.) R. M. Vaughan, M.C., R. Innis. Fus., reverts from a Sqdn. Comdr., and relinquishes his temp. rank. 4th Aug. 1917, with seniority from 28th Mar. 1915.
(Second Supplement to London Gazette, 17 Aug 1917. p8519
The undermentioned are restd. to the estabt. —
R. Innis. Fus.—11th Jan. 1920.
Capt R. M. Vaughan, M.C
(SUPPLEMENT TO THE LONDON GAZETTE, 10 JANUARY, 1920. p488)
LAND PURCHASE COMMISSION,
NORTHERN IRELAND.
Record No. L.P.C. 13.
Estate of CAPTAIN RALPH MONTGOMERY VAUGHAN.
County Down.
TAKE NOTICE that the said Ralph Montgomery Vaughan, claiming as absolute Owner, is proceeding to sell his Estate, comprising part of the Townland of Cloghanramer, containing 46 acres and 2 roods statute measure, situate in the Barony of the Lordship of Newry and County of Down, to the Tenant thereof in fee- simple, reserving thereout to the Land Purchase Commission, Northern Ireland, the exclusive right of mining and taking minerals and digging and searching for minerals on or under the said Estate. And that the Land Purchase Commission, Northern Ireland, intend, without any further investigation of title, within fourteen days from this date, unless some valid reason is shown in the meantime why they should not do so, to deal with the said Ralph Montgomery Vaughan as the owner of the said lands for all purposes other than the distribution of the Purchase Money or the payment of any percentage out of the Land Purchase Aid Fund established under the Irish Land Act, 1903.
(Signed) S. RICE.
By Order of the Land Purchase
Commission, Northern Ireland.
Dated this 26th day of October, 1928.
N.B.—Any person interested in the Estate will, on application at the Office of the Land Purchase Commission, Northern Ireland, be furnished with information as to the amount of the Purchase Money of the Holdings on the Estate.
(THE BELFAST GAZETTE, OCTOBER 26, 1928. p1191)
Final Notice to Claimants and Incumbrancers.
COURT OF THE LAND PURCHASE
COMMISSION.
NORTHERN IRELAND.
LAND PURCHASE ACTS.
Record No. L.P.C. 13.
Estate of CAPTAIN RALPH MONTGOMERY
VAUGHAN.
County of Down.
TAKE NOTICE that the Final Schedule of Incumbrances affecting the proceeds of the Sale of the Lands in the above matter, viz.:—the lands of Cloghanramer (part of), situate in the Barony of Lordship of Newry, and County of Down, has been lodged in the Registrar's Office of tins Court at 7 Upper Queen Street, Belfast, and may be there inspected, and that the 9th day of January, 1931, has been fixed on the last day on which claims or objections to the said Schedule of Incumbrances may be lodged. The claim set forth in the Schedule hereto is not admitted by the Vendor, and Application will be made on the hearing before the Judicial Commissioner to distribute the purchase monies without regard to the said disputed claim, unless an objection thereto is lodged with the Registrar of this Court by or on behalf of a person interested in the said claim, on or before the said ninth day of
January, 1931.
SCHEDULE.
Item No. 1
Nature of Claim. Annual Lay Impropriate Tithe
Rent Charge of £310 6s. 5d.
How created. Certificate of Applotment dated 25th October, 1833.
Parties thereto. Lay Impropriator, Earl of Kilmorey Lands charged and sold in this matter.
Parish of Newry
Dated the 26th day of November, 1930.
R. R. McCUTCHEON,
Examiner. Robert A. Mullan & Son, Solicitors for Vendor, 16 High Street, Belfast.
(1410 THE BELFAST GAZETTE, NOVEMBER 28, 1930.)
Inniskiling Fus.—Capt. R. M. Vaughan, M.C., to be Maj. 27th July 1932.
(THE LONDON GAZETTE, 12 AUGUST, 1932. p5226)
Inniskilling Fus.—Maj. R. M. Vaughan, M.C., retires on ret. pay. 24th Nov. 1936.
Inniskilling Fus.—Maj. R. M. Vaughan, M.C. (ret. pay), to be Maj. 24th Nov. 1936, with seniority 26th Mar. 1931.
(THE LONDON GAZETTE, 24 NOVEMBER, 1936. pp7572,7573)
Inniskilling Fus.
Maj. R. M. VAUGHAN, M.C. (4538) having attained the age limit of liability to recall, ceases to belong to the Res. of Offrs., 14th Oct., 1945.
(SUPPLEMENT TO THE LONDON GAZETTE, 16 OCTOBER, 1945. p5054)