&nbsp
Major Henry Meintjes, MC, AFC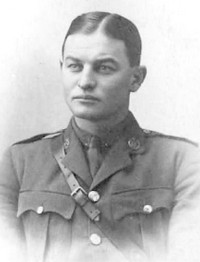 Henry Meintjes was born on 25 December 1892 in Colesberg, Cape Province, South Africa. As a youth, he studied at St. Andrew's College, Grahamstown. From a transcript of the College Register, he had an older brother, Clarence, and another brother Stephen Murray who died young in 1907. Given that Henry and Stephen's school registration numbers were one apart, there is a chance the two were the same age and, perhaps, twins.
At the start of the Great War, he served with South Africa's 14th Dismounted Rifles, which fought in German South-West Africa. In November 1915, he went to England to join the Royal Flying Corps.
On 6 May 1916, after completion of flying training at Thetford, 2Lt Meintjes was assigned to No. 60 Squadron at Gosport as part of its initial cadre of Flying Officers, along with fellow South African D.V. Armstrong. Of note, South African E.J.L.W. Gilchrist, future Officer Commanding of 56 Squadron, also flew with Meintjes in the early days of 60 Squadron. That May, the squadron deployed to France; in July, the Battle of the Somme began. Meintjes would fly the Morane Bullet monoplane and then the Nieuport Scout. Though one of the few that could manage the difficult-to-fly Bullet, it was with the Scout that Meintjes had his success, scoring four victories. By December, he was promoted to Temporary Captain and appointed Flight Commander. In the 60 Squadron recommendation for the Military Cross and several other letters, his "excellent record of pluck, determination and good judgement" was highlighted. In February 1917, when it was time for Meintjes to return to Home Establishment, the Officer Commanding No. 60 Squadron wrote several letters extolling Captain Meintjes' virtues as a Flight Commander, first arguing that he should just be given extended leave so he could return to the squadron. This was not to be; on 22 February 1917, Meintjes was posted to the No. 1 School of Aerial Gunnery. In the history of No. 60 Squadron written by Group-Captain A. J. L. Scott, Meintjes was described as "one of the best pilots, and almost the most popular officer, 60 ever had." On the Rugby field Meintjes was "a tower of strength at full back."

Officers of No. 60 Squadron, Meintjes is in the front on the right side
from Sixty Squadron, R.A.F., A History of the Squadron from its Formation
by Group-Captain A. J. L. Scott, C.B., M.C., A.F.C.
In March 1917, Capt Meintjes was posted to No. 56 Squadron as one of its Flight Commanders, likely at the request of his ex-60 Squadron mate, Albert Ball. When the Squadron was tasked to deploy to France, he led the advance party, departing England 3 April. He scored another 4 victories with No. 56, the last two occurring on 7 May 1917 when he was seriously wounded in the wrist; the same day Captain Albert Ball was killed. In Scarlet and Khaki, the autobiography of T.B. Marson, the 56 Squadron Recording Officer, he writes about the "phlegmatic" Meintjes:
"A fine pilot – you cannot keep him out of the air – he came to us from No. 60 Squadron, and was a tower of strength. Nothing escaped him, and nothing worried him. Although hit in the wrist a long way over the lines, and despite the loss of much blood – the cockpit was like a shambles – he brought the machine back and made a perfect landing on our side of the lines [near Sains-en-Gohelle], and then fainted away. Trust Meintjes not to faint till his job was done."
After many months in the hospital, Captain Meintjes was posted to the Central Flying School 25 July 1918, where he would be promoted to Acting Major. He would receive the Air Force Cross for his efforts at the School. On 2 May 1919 he was assigned to the Southern Aeroplane Repair Depots at Farnborough, where he was appointed as Officer in Charge of the Aerodrome. On 14 June 1919, he was transferred to the RAF unemployed list.
Returning to South Africa, he became Manager and Chief Pilot to Handley Page South African Transports, Ltd., from 1919 until 1921. In 1922 Major Meintjes entered the South African Air Force. There he "had a roving commission … flying from base to base organising." In 1928, he supported Lady Mary Bailey's historic solo return flight between Croydon, UK, and Cape Town, South Africa, by delivering a D.H. "Moth" to replace one that was severely damaged on the way to Cape Town (Flight Magazine, 10 January 1929) . On 4 March 1931, he transferred to the South African Police, where he was appointed Chief Inspector. After retiring from the police, he became the proprietor of the Kensington Bottle Store in Johannesburg. A member of the Pretoria Country Club, he enjoyed tennis, fishing, shooting and gardening. He passed away 2 June 1949, only days after the passing of his older brother Clarence on 25 May.
London Gazette Entries
The undermentioned Second Lieutenants, South African Defence Force, to be temporary Second Lieutenants: —
Dated 8th November, 1915.
H. Meintjes..
(SUPPLEMENT TO THE LONDON GAZETTE, 15 MARCH, 1916. p2902)

ESTABLISHMENTS.
ROYAL FLYING CORPS.
Mil. Wing.—The undermentioned appts. are made: —
Flying Officers.
17th May 1916.
Temp. 2nd Lt. H. Meintjes, Gen. List.
(SUPPLEMENT TO THE LONDON GAZETTE, 8 JUNE, 1916. p5720)

ROYAL FLYING CORPS.
Mil. Wing.—The undermentioned appts. are made:—
Flight Comdrs. — From Flying Officers, and to be temp. Capts. whilst so empld.: —
11th Dec. 1916.
Temp. 2nd Lt. H. Meintjes, Gen. List.
(THE LONDON GAZETTE, 29 DECEMBER, 1916. p12663)

AWARDED THE MILITARY CROSS
T./Capt. Henry Meintjes, Gen. List and R.F.C.
(SUPPLEMENT TO THE LONDON GAZETTE, 4 JUNE, 1917. p5482)

ESTABLISHMENTS.
Central Flying School.
The undermentioned temp. appts. are made: —
Instructors (Graded for purposes of pay as Majs.) (Flying).
Capt. H. Meintjes, M.C., vice Capt. (actg. Maj.) J. C. Slessor, M.C. 14th July 1918.
(THE LONDON GAZETTE, 31 JANUARY, 1919. p1537)

Capt. H. Meintjes, M.C., to be actg. Maj. whilst empld. as Maj. (A.). 1st Oct. 1918.
(THE LONDON GAZETTE, 8 APRIL,1919. p4573)

AWARDED THE AIR FORCE CROSS
Capt. Henry Meintjes, M.C. (S.A. Forces).
SUPPLEMENT TO THE LONDON GAZETTE, 3 JUNE, 1919. p7034)

The undermentioned are transferred to the unemployed list: —
13th June 1919.
Capt. H. Meintjes, M.C.
(THE LONDON GAZETTE, 1 JULY, 1919. p8235)
The main sources of information for this biography are:
- Sixty Squadron, R.A.F., A History of the Squadron from its Formation, by Group-Captain A. J. L. Scott, C.B., M.C., A.F.C.
(accessed via the Project Gutenburg website)
- Several entries in Rootsweb, including one by Heather MacAlister, who provided transcripts from "Personalities in South African Motoring and Aviation", published by The Knox Printing and Publishing Company, Durban, 1941 and the St Andrew's College Register
- Service Records downloaded from findmypast.co.uk
- awards recommendations accessed at The National Archives, UK