1st Lieutenant Jarvis Jenness Offutt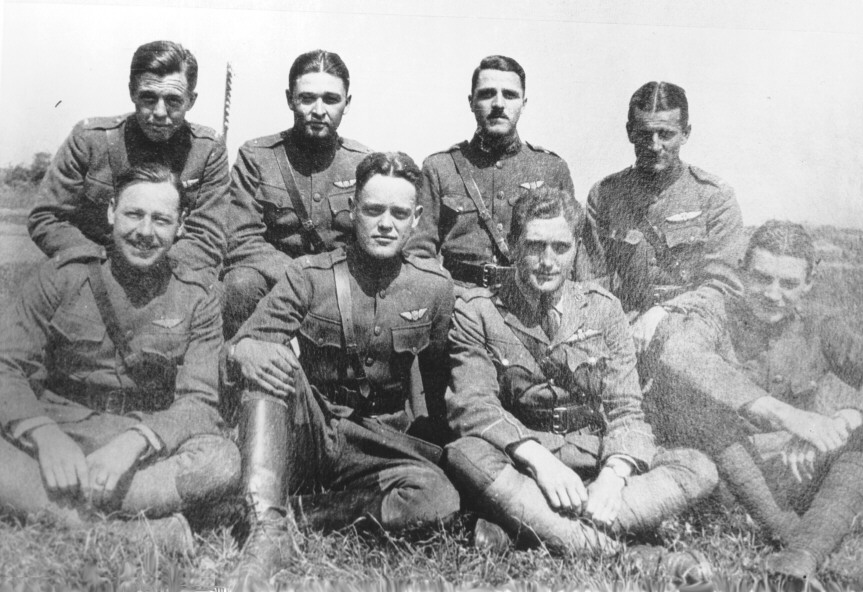 Jarvis Jenness Offutt was born on 26 October 1894 to a well-to-do family in Omaha Nebraska. His father was Charles Lemuel Offutt, who served as the Speaker of the House for the Kentucky State Legislature, and his mother was Bertha Clarke Yost Offutt. He had one brother, Casper, and a sister, Virginia. Offutt would go on to attend the prestigious Yale University before joining the United States Army.
In May 1917 he transferred to the United States Army Air Service and was one of 300 candidates to attend flight training at Camp Borden north of Toronto, Ontario, Canada. After this training, he was assigned to the 22nd Aero Squadron at Fort Worth Texas and commissioned 1st Lieutenant. On 24 January 1918 he deployed to England for final training and eventual employment as a ferry pilot delivering aircraft to the front. In August, he was transferred to the front line (most likely to 60 Squadron, from which he was posted to 56). The following extract from his last known letter, written to a friend, provides insight into his thoughts at that time:
"I leave at once for the big game. No longer this training stuff, but after the Boche and over the lines for all the old hell that German Archie can give me ... After three months of this ferry pilot work I have met and seen a good many Squadrons and men in charge and we must get together and attack Chase in his damn balloon.

"Did I tell you, I am going over on (S.E.5)'s, it's the kind of machine you'll want and if Archie doesn't get me sooner than I hope for, then we must fly this old game together.

"I've little news tonight and am very rushed so must close. If anyone asks you what machine you are going on tell them S.E.5 ... If anything happens in this game of luck and I'm out of the running before you arrive, get access thru the Q.M. in France to my stuff and help yourself. The boys are pretty fast but the Huns faster still."
On 12 August 1918 1st Lieutenant Offutt was transferred to 56 Squadron. Sadly, the next day whilst practicing an aggressive manoeuvre, he was killed in a crash. He was Omaha's first World War I air casualty. Unfortunately, his journey home was extended as he was mistakenly buried as Private Walter Heltman in Connelsville Pennsylvania. In December 1923 he was reinterred in the family plot in Forest Lawn Memorial Park, Omaha, Nebraska.
In May 1924, the Fort Crook landing field was renamed in his honour. In 1946, the whole of Fort Crook was renamed Offutt Field becoming Offutt Air Force Base when the facility was transferred to the Department of the Air Force.
Many thanks to the 55th Wing Historian, United States Air Force, who kindly provided information and photos for this article. Information also taken from www.findagrave.com and Evening State Journal articles available from the Newspaper Archive.